DID YOU KNOW ONLY 2% OF PARENTS BRUSH THEIR DOG'S TEETH
BEST FRIENDS DESERVE HEALTHY MOUTHS
Just like in humans, without proper oral care, dogs can develop problems like tartar, plaque buildup and gingivitis. But it's not just bad breath and yellow teeth you have to worry about. These canine dental problems can actually lead to life-threatening infections and issues including heart, liver, and kidney disease.


Additionally- depending on severity, dental extractions can cost hundreds to thousands of dollars and are painful procedures. Save your wallet and gain peace of mind by using prevention methods (Like manual brushing and tasty Puppy Polish as an incentive)

Don't wait until it's too late.
80% OF DOGS WILL HAVE DENTAL DISEASE BY AGE 3
INGREDIENTS YOU CAN TRUST
Puppy Polish Toothpaste uses Naturally Sourced and Derived Ingredients and is designed to help remove plaque and harmful bacteria, freshen breath and keep your dog's teeth brilliantly white.
Our products are designed with your dog's health in mind. We promise to deliver high quality, lab tested products that are good enough for humans, but designed for dogs.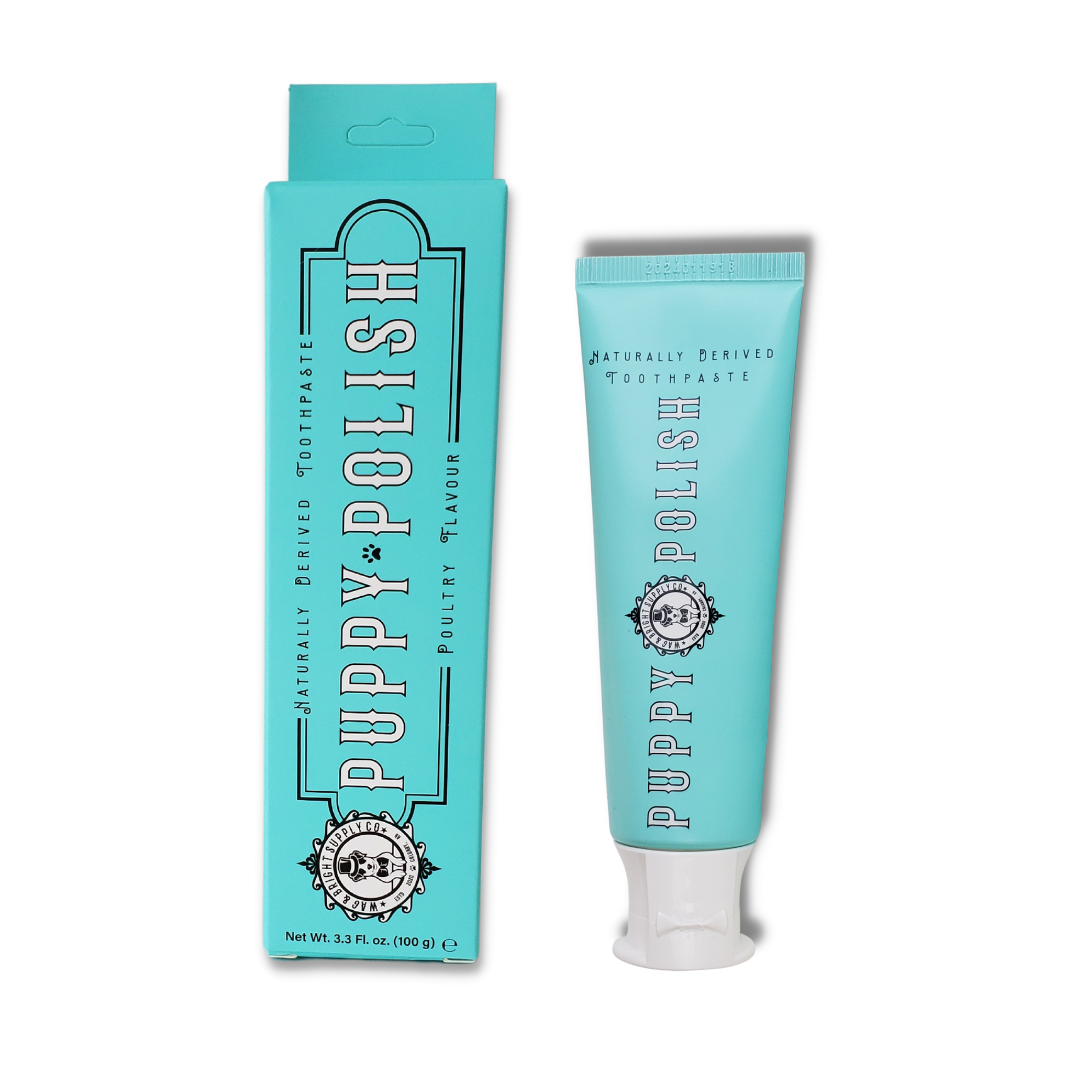 PUPPY POLISH TOOTHPASTE (100g)
Wag & Bright's Puppy Polish toothpaste is made from natural ingredients and is designed to help fight plaque buildup, whisk away bacteria, freshen breath and keep your pup's teeth brilliantly polished.

Our formula contains Baking soda, Coconut oil, Stevia (natural sweetener) and poultry flavor (which dogs LOVE).

Puppy Polish was created to incentivize dog's and their owners to include brushing in daily life. Oral care is an important part of the overall health and wellbeing of your dog.

Our formula is lab tested at an independent laboratory and free from ingredients like artificial colors, parabens, gluten, triclosan, DMDM, fluoride, xylitol, SLS, chlorhexidine and heavy metals.
​
Puppy Polish toothpaste is safe for dogs of any age.
Shop Now